Be Wary of Moving Scams in Florida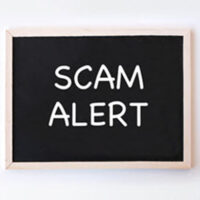 Moving from one place to another can be stressful. It can be hard to pack up everything, coordinate with a moving company, and get everything safely to your new home.
Making matters worse is that moving companies often take advantage of customers. In fact, moving scams have become popular in recent years. The U.S. Department of Transportation has taken notice, receiving 7,500 complaints against moving companies in 2022. The agency is starting to crack down on these scams, but they're still prevalent. The issue is especially bad in Florida, where half of the complaints come from.
The scams typically involve hidden fees and holding items hostage. The scam often plays out in a similar way each time. A company will agree upon a price with a consumer. Then, upon delivery, the consumer will receive a new estimate. The moving company will not release the person's belongings until they pay the new price, which is something that was not agreed upon ahead of time. So it puts the customers in a bad spot.
It's important to thoroughly assess any moving company before hiring them. Do your research. Talk to others who have used moving companies. Read reviews.
The Federal Motor Carrier Safety Administration (FMCSA) can help with the research. It provides a searchable database where you can find information about a moving company's headquarters, registration status, safety records, and complaint history.
Moving scams are more prevalent during the summer, the time when most people make their move. However, they can happen any time of the year, so be aware. Here are a couple red flags to look for:
The mover doesn't inspect the items to be moved in person. Instead, they provide an estimate online or over the phone.
The company seems generic or constantly changes their name. Companies can get around the Better Business Bureau by doing business under new names. Check to make sure the company answers the phone with the full name of the business, not something generic.
The company demands a large deposit before the move or demands that you pay in cash only.
The company charges you unexpected fees for every little thing. Some examples include living on a narrow street or moving to a two-story house.
You are given a blank contract. Never sign a blank contract. Make sure to get everything in writing, including your estimate and any extra fees. Your pickup and delivery dates should be on the contract as well.
Seek Legal Help
Moving can be a nerve-wracking experience as it is. Poor communication by a moving company and losing belongings are things that should be unacceptable.
A Fort Lauderdale breach of contract lawyer Edward J. Jennings, P.A. can help you if any type of company has reneged on their contract and is making life miserable for you as a consumer.  Fill out the online form or call 954-764-4330 to schedule a consultation.
Source:
baynews9.com/fl/tampa/news/2023/04/17/moving-scams-on-the-rise