Divorces on the Rise Due to COVID-19 Pandemic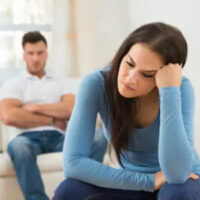 In March and April, experts predicted that the coronavirus pandemic and subsequent quarantine orders would cause couples to get sick of each and file for divorce. They were not wrong. Not long after the quarantine started, people started contacting divorce lawyers and discussing their options, despite the fact that courts were closed and the divorce process would have to be delayed a bit.
In fact, data comparing this year to last year shows that divorces have skyrocketed this year. Between March and June 2020, divorce filings were up by 34 percent, compared to 2019. But why? Is it simply because couples couldn't stand to spend more time together?
It's a little more complex than that. COVID-19 has brought about a lot of anxiety and stress. With millions of Americans laid off, many households have experienced financial strains. Many of those who still have jobs are working from home, which means couples are spending more time together in the same home. Currently, more than 6 million have contracted the virus and 187,000 have died. This has put additional strain on families. In addition, schools have shut down, forcing parents to homeschool.
Nearly one-third of the couples represented in the data admitted that the quarantine has led to their divorce and their relationship is beyond repair.  And it didn't take long for couples to get sick of each other. Interest in divorce peaked on April 13, which was less than a month into the quarantine. This is about the time when people stop feeling optimistic about a bad situation and feel increased stress and discouragement.
Some couples felt the strain more than others. Newlyweds were hit hard, with 20% of those divorcing married less than five years. This shows that couples who were married longer were better able to handle the stressors of marriage than those who have been married just a few years or less. Arkansas, Alabama and other states around the Bible Belt had the highest rates of divorces.
Will divorce filings continue to rise? Experts seem to think so. After all, we're not done with the coronavirus yet. People are still getting sick and dying.  Many businesses are still closed and children still cannot attend in-person learning. People are still stuck at home, for the most part, and unable to see friends and family members. Unemployment is still high as Americans hope for another stimulus check to tide them over. Consumers and businesses are filing for bankruptcy at high rates. Until all these problems get resolved, Americans are going to continue to feel stress, and this added anxiety will impact their marriage in negative ways. 
Seek Legal Help
Quarantining with a spouse is the true test of a marriage. Has your marriage been able to stand the test or are you considering divorce as well?
Fort Lauderdale divorce attorney Edward J. Jennings, P.A. can help you understand your options. Divorce is not always necessary. To learn more, schedule a consultation by calling 954-764-4330 or filling out the online form.
Resources:
nypost.com/2020/09/01/divorce-rates-skyrocket-in-u-s-amid-covid-19/