Getting An Uncontested Divorce In Florida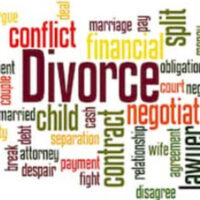 Let's face it: if you have been through a divorce, you know it's not easy. If you opt for an uncontested divorce, it's still hard but at least you and your spouse are able to agree on the major elements of divorce.
An uncontested divorce is certainly less contentious and allows you and your spouse to make decisions about the important aspects. A contested divorce is certainly more expensive and will more than likely take forever to finalize.
In Florida, there are two ways to seek an uncontested divorce. Both have a residency requirement: at least one spouse must be a Florida resident for six months or longer. Other than that, there are different processes involved. Here's what you need to know if you're ending your marriage in Florida.
Simplified Dissolution of Marriage
This is the easiest way to dissolve your marriage in Florida, as long as you qualify for it. Here are the criteria for it:
Both spouses agree to use the simplified method.
They agree that the marriage is irretrievably broken.
There are no minor children or dependents involved
Neither spouse is pregnant
They agree on how to divide all assets and debts.
They agree not to seek alimony.
Regular Dissolution of Marriage
If a couple wants to divorce but does not meet the criteria above, they can seek a "regular dissolution of marriage." This regular method, however, requires mandatory financial disclosures and a parenting class if the couple has children. A regular divorce may also involve hearings, evidence, witnesses, and cross-examination. A lawyer is often needed in these situations.
What to Know About Uncontested Divorce
Uncontested divorce can be beneficial in various ways. These divorces are often finalized quickly because no final hearing or trial is necessary. However, Florida does require a 20-day waiting period after filing. Still, if all goes as planned, a simplified dissolution may take just 4–6 weeks.
For a regular dissolution of a marriage, the process can take many months. This is due to mandatory disclosure filings, delays in scheduling hearings, and having to attend a parenting course (if children are involved). All of this can take at least several months. Plus, every divorce has unique challenges that can add extra steps to this process.
In general, here are the steps in an uncontested divorce:
Make sure you and your spouse agree on property and alimony. If there are children involved, you also need to draw up a parenting plan.
File a regular or simplified uncontested divorce petition.
The other party will file an answer.
Respond to all court requests.
If you have children, attend a parenting course.
Go through the 20-day waiting period.
Attend a final hearing.
Seek Legal Help
Not all divorces can be uncontested. Sometimes there are disagreements when it comes to property division or other elements of the divorce.
Whether your divorce is contested or uncontested, Fort Lauderdale divorce lawyer Edward J. Jennings, P.A. can assist you. Schedule a consultation by filling out the online form or calling 954-764-4330.
Source:
marketwatch.com/picks/guides/legal-services/uncontested-divorce-in-florida/#:~:text=Make%20sure%20you%20and%20your,for%20a%20copy%20of%20judgment