What Is Tortious Interference?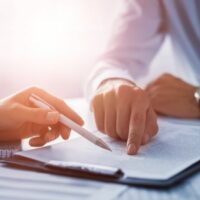 Business owners face a lot of competition. No matter what industry you're in, you're going to see competitive behavior from others. And while competition can be healthy, it can also go a little too far and cause issues.
This is called tortious interference, and it is a type of business tort that occurs when one party interferes with another party's contracts or relationships to cause economic harm.
Examples of Tortious Interference
There are several common ways in which tortious interference can occur. One example is that someone could interfere with the sale of a business that has reached the final stages but not yet been finalized. A person could also coerce someone to end a business relationship.
The most common form of interference, however, occurs when someone forces another person to break a contract they have with a third party. This can happen in a variety of ways. For example, someone could induce a breach by offering below market prices or they could blackmail or threaten someone into violating a contract. In some cases, they may make it impossible for the other person to perform the obligations of their contract.
Tortious interference goes by other names as well, such as intentional interference with contractual relations, Unlawful interference with contractual relations, interference with a contract, interference with a contractual relationship, procurement of a breach of contract, and inducement of a breach of contract.
Proving Tortious Interference
To claim tortious interference, it must be proven that the defendant acted intentionally. A person cannot simply claim negligence, and just because the act was intentional does not automatically mean it was tortious interference.
The court will need to examine the motivation of the party that caused the breach and see if they acted improperly. If there is no improper motive, then it's not tortious interference.
The following elements must be met:
A valid contract between the plaintiff and a third party.
Knowledge of the contract by the defendant.
The defendant's intent to interfere with the contract.
Improper interference
Damages to the plaintiff
What Determines Improper Interference?
What is considered improper interference? Here are some factors to consider:
Type of conduct
Actor's motive and interests
Other parties' interests
Actor's behavior in relation to the interference
Relationships between the parties
Damages involved
The courts will look at the factors above to see if tortious interference has been established. If so, the plaintiffs are entitled to compensation for their damages. These damages include monetary losses and punitive damages.
Seek Legal Help
There's a lot of competition nowadays, but individuals and businesses need to avoid interfering with another company's business relationships. This can result in financial losses and lead to legal issues.
Business torts can cause a lot of damage to your company. Fort Lauderdale business torts lawyer Edward J. Jennings, P.A. can give you the sound legal advice and representation you need for your case. Schedule a consultation by filling out the online form or calling 954-764-4330.
Source:
law.cornell.edu/wex/tortious_interference