Bill And Melinda Gates And Other High Net Worth Divorces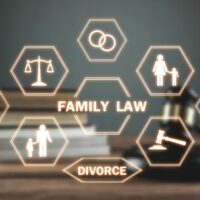 The average divorce is complicated enough to navigate. When an average middle class couple divorces, there is often a home, bank account, and children involved. But when a millionaire or even a billionaire gets divorced, things get a lot more complicated, as there are a lot more assets involved.
Some of the richest people in the world have gotten divorced over the years, from Elon Musk to Jeff Bezos and now Bill Gates. The Microsoft co-founder and his wife, Melinda, recently decided to divorce after 27 years of marriage, stating that they "can no longer grow as a couple." This can have a lot of implications, since there are $130 billion in assets involved. In 2000, the couple started an organization together called The Bill & Melinda Gates Foundation, which works to improve healthcare, reduce extreme poverty, and expand educational opportunities. One of the foundations' most well-known achievements is donating billions of dollars toward COVID research and vaccines.
In addition, this can be considered a gray divorce, as the divorce is happening during their retirement years. Bill Gates is 65 years old, while Melinda is 56.
The Gates' have a lot of assets involved. One of their biggest ones is their house—or rather, mansion—in Washington, which features 20 rooms and 20,000 square feet of space. It cost $60 million to build. There are other homes in Florida and Wyoming. Bill Gates also has more than 100 million shares in Microsoft.
There was no prenuptial agreement in place when the two married, which is surprising considering that Bill Gates was already very wealthy at the time. Since there was no prenup, dividing all these assets may be a bit tricky.
However, the Gates' did sign a separation contract before announcing their divorce, which means that they have already agreed on how to split their assets. The terms of the contract have not been made public, though, so it is unknown how the couple plans to split their assets. But with so much involved, the contract likely took a long time to draw up—probably at least a year. That's because every single asset has to be accounted for, from money to homes to artwork to vehicles and everything else. This means spreadsheets upon spreadsheets itemizing everything they own. Lawyers then have to determine which assets are considered marital property and which ones were acquired before the marriage and therefore deemed separate property. Once they figure out how much the property is worth, it is then divided up between the spouses.
Since Bill and Melinda appear to be agreeing on everything so far, the divorce could go smoothly. This means their divorce could be finalized in as little as 90 days, which means they could be legally single again before the end of summer.
Seek Legal Help
High asset divorces have a lot of implications involved. There is a lot of money and assets at stake
Ending a marriage is always difficult. Fort Lauderdale divorce lawyer Edward J. Jennings, P.A. can help you deal with everything that's involved in a high asset divorce.  Fill out the online form or call 954-764-4330 to schedule a consultation.
Resource:
foxbusiness.com/lifestyle/bill-gates-melinda-most-expensive-billionaire-divorces-jeff-bezos-elon-musk