Common Money Mistakes During Divorce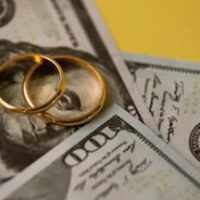 It's no surprise that money matters lead to divorce. But once the divorce process starts, the money issues are still there—and sometimes they get even worse.
Divorce tends to amplify the situation, especially in a high asset divorce. When there's lots of money and significant assets at stake, emotions tend to run high. This causes people to not think things through, which leads to financial mistakes.
Financial mistakes can cost you dearly. After a divorce, you're on your own, so every dollar counts. Don't leave money on the table. Here are some common money mistakes to avoid.
Getting Advice from Family and Friends
While your loved ones surely mean well, don't expect them to give you sound financial advice. Giving the right advice involves knowing your rights in a divorce as well as knowing about finances, including retirement accounts, stocks, and bonds. It's likely that your loved ones don't have this specialized knowledge. While it may be possible that you have friends who work in the financial sector, you should seek advice from your lawyer. They can help you find the right experts to help you with your case. Use your loved ones for emotional support instead.
Not Keeping Accurate Records
In a divorce, organization is key. You need to have accurate records of all your financial transactions. You'll want to provide your lawyer with documentation of assets and debts as well as records of any expenditures during the divorce process. Your financial experts will also need this information to help you make good decisions.
Trying to Maintain Your Lifestyle
Going from one household to two is not an easy task financially. Essentially, two incomes go down to one as well, so you and your spouse will each be responsible for your living space. As such, there may not be enough assets to support both households while maintaining the same lifestyle you had when you were married. Therefore, you may need to get a reality check. Prepare to cut back on expenses. Determine your income and any child support or alimony and get an idea of the amount of money you have and how much you can spend, and adjust your budget accordingly.
Negotiating Too Quickly
While you may just want to get the divorce over quickly, not negotiating well can backfire. Make sure you have all the information you need to make an informed decision. This includes information about assets and debts that are to be divided. Take the time to get everything in order or you could miss out on a lot of money—money that you'll need to move on after a divorce.
Seek Legal Help
Money is a huge issue during a marriage and a divorce. A financial mistake can be very costly.
Seek legal help from Fort Lauderdale divorce lawyer Edward J. Jennings, P.A. We'll assess your situation and help you avoid mistakes with money and other elements. Schedule a consultation by filling out the online form or calling 954-764-4330.
Source:
bizjournals.com/stlouis/news/2021/06/24/5-common-financial-mistakes-to-avoiod-divorce.html