Digital Bullying During A Divorce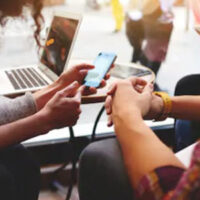 When you think of online bullying, you may think of teens badmouthing and insulting each other online. This digital bullying, however, also tends to occur during a divorce.
In fact, you may have seen it among celebrities—think Kanye West and Kim Kardashian. You have probably heard West ranting online about Kardashian's dating life, particularly her new boyfriend, Pete Davidson. Maybe you have heard about West trashing Kardashian's parenting skills and how she is allegedly not allowing West to see their four children, even though Kardashian claims the allegations are completely false.
Digital bullying happens to non-celebrity couples as well. It may include badmouthing on Facebook, Twitter, Instagram, and other social media sites. In some cases, one spouse may engage in digital theft, stealing access to bank accounts, emails, and other important login information.
The problem with social media is that what you say online can and will be used against you. That's why lawyers often advise their clients to avoid saying anything inflammatory on social media. In fact, it's best if a person avoids it altogether during their divorce proceedings.
Social media can have a negative impact on the outcome of your divorce. That's because lawyers can easily dig up all your social media posts and use them against you. Texts and photos can be hauled into court and be used as fuel in child custody arrangements.
This means that West shouldn't be badmouthing Karsadhian on social media unless he has a "divorce death wish." Some states even have new legal standards of "coercive control" as a form of non-physical abuse. Under the law, judges are given leeway in doling out appropriate punishments.
This case also goes to show that digital bullying can happen to anyone. Kardashian is a well-known celebrity with a wealth of resources at her disposal. Yet she is still a victim of digital bullying by her ex-spouse. But in the end, she will reap the rewards by not fighting fire with fire. By avoiding engaging with West and keeping her mouth shut, she will gain the upper hand in divorce proceedings, especially when it comes to custody of their children.
In February, Kardashian spoke up in court, telling the judge about West's online behavior, which included misinformation about personal family matters and co-parenting. After noting that West's actions have caused her emotional distress, Kardashian asked the judge to end the marriage as soon as possible.
West's behavior has already earned him some punishment. He was banned from Instagram for 24 hours. After using racial slurs, he was also banned from the Grammy Awards in early April.
Seek Legal Help
Social media can be dangerous in a divorce. When a person is upset about the divorce, they may go online to blast their former spouse, causing drama and even affecting the outcome of their divorce.
Fort Lauderdale divorce lawyer Edward J. Jennings, P.A. can help you understand how to act during a divorce. Bad behavior can cause negative effects. Schedule a consultation with our office today by calling 954-764-4330 or filling out the online form.
Resource:
abcnews.go.com/Entertainment/wireStory/divorce-digital-bullying-play-84057193