Discussing Finances as Co-Parents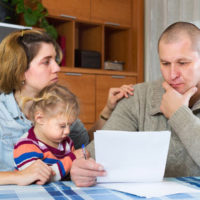 After a divorce with children involved, the spouses will be a part of each other's lives until at least the children turn 18. While some divorces are amicable, others are contentious, and this can make situations awkward.
Child custody arrangements may be a constant source of drama as it is. Having to discuss money matters as they pertain to the children can be even more uncomfortable, especially if finances were the cause of the divorce in the first place.
Nevertheless, co-parents need to stay on the same page financially. Children's expenses tend to grow as they get older. They may desire fashionable clothing and the latest electronics as they hit the teen years. They may be involved in sports and other extracurricular activities, which can be costly. Once a child turns 16, costs increase even more as they get their driver's license and require a car and all the expenses that come with owning one.
It should not be up to the custodial parent to shoulder all these additional costs. While having a discussion with your ex-spouse can be intimidating, it is something that needs to be done to reduce tension as well as the financial stress you may be facing.
Steps to Take
The first step is to look at the divorce decree. This document makes a divorce official and outlines the financial responsibilities of the parents. Topics such as education, health care and extracurricular activities should be addressed. When finalizing a divorce, parents should ensure that every detail is included in the decree. This may entail looking five, 10 or 15 years down the road and anticipating issues that may come up.
You should also set up a regular communication system to discuss finances. It is recommended that parents discuss finances on a monthly basis, since so much can change quickly. Your child may suddenly need extra money for school field trips, parties, sports or medical procedures. It is important to keep the other parent informed through a communication method of your choice, such as phone, email or text.
If communication is rocky, an app can help. Financial software can allow parents to send money, upload or view receipts and see expenses. Everything is in one place, making money matters easier to handle.
Another strategy is to save on taxes. You may be able to file as head of household, which can save thousands of dollars on taxes. The main requirement is that a parent must have a child who lives with them for more than half a year, or six months. If there are multiple children, then each parent can take advantage of this tax deduction every year. If there is only one child, then the parents can opt to alternate.
Seek Legal Help
Money is a sore spot for parents, whether they are married or divorced. Children come with a lot of expenses, particularly as they get older. It is important that both parents pay their fair share.
You may be scared to discuss financial matters with an ex-spouse, but it's crucial if you have kids together. Fort Lauderdale child custody attorney Edward J. Jennings, P.A. can help. If you are not yet divorced, a divorce decree can outline financial expectations so that everyone is on the same page. To schedule a consultation, fill out the online form or call 954-764-4330.
Resource:
cnbc.com/2019/06/20/how-co-parents-can-stay-on-the-same-financial-page.html
https://www.ejj-law.com/can-a-child-choose-with-which-parent-to-live/