Does Your Company Need a Non-Disclosure Agreement?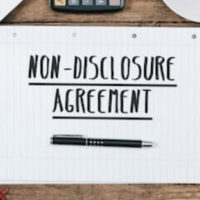 Hiring a new employee can be an exciting time in the life of a young company. The best workers are smart and have great ideas to help a business grow and reach its potential. However, these employees will likely be privy to classified and sensitive information in order for them to do their jobs effectively. For example, they may be given client lists and proprietary software that, if shared with competitors, can ruin a business.
This is a very real threat for all businesses. Many employees have shared sensitive information to competitors, either out of spite or as part of their job after leaving a company. To prevent the damage done by spreading this information, many companies require that their workers sign non-disclosure agreements.
When Should You Require a Non-Disclosure Agreement?
While a non-disclosure agreement, or NDA, is a good idea in many situations, it's not always required. For example, many venture capitalists will not sign such an agreement, so keep this in mind if you have a business startup and are trying to raise money.
If you have no employees or you do, but share little company information with them, then you probably don't need one. A good example of this would be a construction company that has carpenters working on a job site. Construction procedures are pretty much the same everywhere, so it's unlikely that your employees would be privy to proprietary information.
On the other hand, a computer company would likely have a lot of information that they would want to keep secret. Technology is always advancing, and companies are constantly looking for ways to outdo the competition. They want to create the most unique technology, and this can be based on many factors. For example, many people want fast computers with a lot of storage, so many companies build their products with these factors in mind. Other companies, however, develop niche markets so they can cater to a specific audience.
In any case, every company has features that make them unique. To protect these unique qualities, requiring employees and clients to sign an NDA is never a bad idea. An NDA requires the signer to keep the data, information, training and proprietary methods that they have learned to themselves. They are not even allowed to disclose them to friends or family members. This may seem weird, but it's for a good reason. Anyone can spill the beans, so to speak, and cause a lot of financial harm to a company.
That's why companies are encouraged to use NDAs. It's the best way to protect your company from untrustworthy workers. Should someone share the company's trade secrets with others, they could face penalties such as fines.
Seek Legal Help
A non-disclosure agreement can protect your business from financial harm, especially if you have many employees who have access to trade secrets. Don't trust your employees and clients without an NDA in place.
Fort Lauderdale business litigation lawyer Edward J. Jennings, P.A. can offer you the protections you need. He can help you create an NDA perfect for your unique business.  To schedule a consultation, fill out the online form or call 954-764-4330.
Resource:
forbes.com/sites/allbusiness/2016/03/10/the-key-elements-of-non-disclosure-agreements/#2c042a8e627d 
https://www.ejj-law.com/are-your-trade-secrets-protected-under-florida-law/