Does Your Home Have These Issues? Avoid Signing a Contract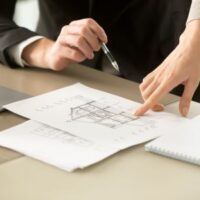 The housing market was hot after COVID hit, with homebuyers making offers tens of thousands of dollars above the asking price just to secure the home of their dreams. Things have cooled down since then, but those who need to buy a home right away may be taking what they can afford.
This can be problematic. If you're in a position where you're in a hurry to buy a home, you may overlook some steps, like a thorough inspection. No matter what situation you're in, you should never take the homeowner's word.
What you think is your dream home now may become a living hell in a matter of months. A house is likely the most expensive asset you will ever own, so it's worth it to slow down and take your time. Otherwise, you'll have regrets later. Here are some red flags to avoid.
Cracks in the Foundation
Your foundation is the most important part of the house. Without a strong foundation, your house could fall apart. Cracks in the foundation are no laughing matter. If you see them, ask questions or better yet, move on.
Water Stains
Water stains could indicate water damage in the home. You may have to remove walls and ceilings in order to really see the extent of the damage. If you see even the smallest water stain, walk away. The problem will only get worse with time.
Moldy Smell
Moldy smells in the home can be a sign of a more significant issue, such as water damage. Mold is often hidden, so you may not see it but it still exists. If you smell mold, be wary. Mold
Is often linked to respiratory problems and unsafe living conditions. Plus, once you know about mold issues in the home, you have to disclose them should you sell your home later. This can make it hard to see your home.
Standing Water
Standing water on your property could signal poor drainage. That's not an issue you want to be dealing with after buying a house. Low spots can lead to flooding, which means water can get
Pest Problems
Of course, you want your home to be pest-free. If you notice damaged wood in the home or are being attacked by wasps as you visit the property, you need to have the homeowner get the damaged fixed before you proceed. Damage caused by termites or carpenter ants can be costly and time-consuming to repair.
Seek Legal Help
Buying a home is an exciting process, but make sure it's the one you want. Don't be in a hurry to make an offer or you could regret it.
Fort Lauderdale real estate contract lawyer Edward J. Jennings, P.A. can ensure you get the house you expect to get. We can help you understand the contract limitations and provisions so there are no misunderstandings. Schedule a consultation with our office today by filling out the online form or calling 954-764-4330.
Source:
gobankingrates.com/investing/real-estate/dont-buy-a-house-if-it-has-any-of-these-10-problems/