Estate Planning Mistakes That Can Cause Probate Disputes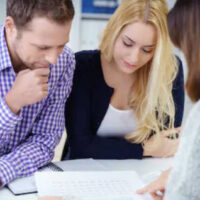 Many people fail to plan for their eventual death. Then there are those who do engage in some sort of estate planning and think they are doing their loved ones a favor but instead only make matters worse.
Messy estate planning happens often. Maybe the plan hasn't been updated in more than a decade. Perhaps legal documents are missing. Poor communication is also a common issue.
These mistakes can wreak havoc on executors and beneficiaries who have to pick up the pieces and make sense of the estate plan while in the throes of grief over their loved one's passing. Here are some mistakes to avoid inheritance and probate disputes.
There Are Surprises
Talking about death is often uncomfortable. However, death is inevitable, so it's important to get your affairs in order sooner rather than later. Having a discussion about death is not pleasant but planning ahead of time will make things easier for your family members when the time comes. Many people assume that their spouses or parents already have estate plans, only to find out they didn't. If you do already have an estate plan in place, make sure beneficiaries are made aware of the contents now so there is no fighting later.
Not Choosing the Right Executor
Being an executor is an important job and it needs to be given to someone who can handle it. Many issues come about when an executor does not do the job right. The right person is organized, responsible, and ethical. They should also be fairly intelligent, with some financial knowledge. There are a lot of pieces involved in dealing with a deceased person's estate, so it's important that you choose the best person for the job. You may want to have a backup chosen in case the person you choose doesn't want to be the executor.
Wrong Names
Putting the wrong names in a will, trust, or other estate plan may seem like a stupid thing to do, but it happens often. The names of the beneficiaries should match what is on the legal document. It's only common sense, but some people fail to check this, and it can cause delays in the process once you die.
Not Updating an Estate Plan
Estate planning is not a one-and-done activity. It's something that needs to be done regularly, as life changes. Estate plans contain assets and beneficiaries, which can change over time. People die, new ones are born. Assets may be gained or sold over time. That's why you need to ensure your estate plan is updated regularly
Seek Legal Help
It's almost always a messy situation when someone dies. It's best for a person to communicate their wishes before they die, but this does not always happen, leading to nasty disputes.
Fort Lauderdale probate litigation lawyer Edward J. Jennings, P.A. can assess your situation and help you understand what legal remedies are available to you. Schedule a consultation today by calling 954-764-4330 or filling out the online form.
Source:
theretirementsolution.com/six-common-issues-that-can-cause-stressful-inheritance-disputes/