Florida Pastor Files Breach Of Contract Lawsuit Against Retirement Fund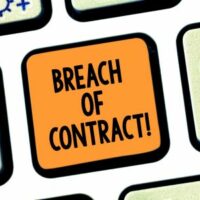 If you have a pension, IRA, stock options, or any other type of retirement fund or benefit that you pay into through your place of work, you expect it to be there until you quit your job or retire. So when a pastor of a Florida church tried to withdraw money from his retirement fund and found that it was no longer available, he was understandably upset.
The sad part is that he wasn't the only one. Thousands of pastors have lost their retirement funds they were promised from the church, resulting in three class-action lawsuits.
The most recent incident involves a pastor at Mt. Tabor African Methodist Episcopal Church, located in Altamonte Springs in Florida. In September, he tried to withdraw his retirement fund, but was told that only 30% was left–and even that was unavailable.
The pastor is a third-generation pastor whose family connection to the church goes all the way back to 1867–more than 150 years. So obviously he once had a lot of trust in his church. Now that trust is gone.
On March 22, the pastor filed a federal lawsuit against the African Methodist Episcopal Church, the retirement fund, and the financial companies involved over the mishandling of his retirement money and the money of others. The man is suing for breach of contract, negligence, breach of fiduciary duty, and other offenses.
Millions of dollars have been lost and some retired pastors are no longer receiving the monthly benefits they were entitled to receive. There are 13 episcopal districts in the United States and all have former church workers who are now retired with no income.
There are at least two other lawsuits. One claims that the church engaged in risky investments and lost nearly $100 million. The pastor's attorney said the church required retirement contributions and promised safe investments, so the employees have lost their hard-earned money. He wants to hold the appropriate people responsible for their actions. Those who had the fiduciary duty to manage and invest the fund did not properly do so, resulting in significant financial loss.
AME Church's defense is that it may have been the victim of a financial crime. On its website, the church promises to make "every fund participant whole." However, the church has not explained how it plans to do so.
Seek Legal Help
Many workers depend on their retirement funds to help them out financially when they get older and decide they no longer can or want to work. Finding out that their funds are not available can be devastating.
This is considered a breach of contract and can have legal ramifications. If you have been affected, seek legal help from Fort Lauderdale business litigation lawyer Edward J. Jennings, P.A. We'll advise you of your legal options so you can make the best decisions. Schedule a consultation with our office today by calling 954-764-4330 or filling out the online form.
Source:
wmfe.org/central-florida-pastor-files-class-action-lawsuit-over-ame-church-retirement-fund-losses/198090