Home Improvement Scams: What to Look For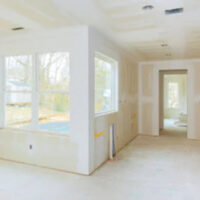 With the real estate market still pretty crazy, many homeowners are choosing to just stay in their current homes and fix them up. Upgrading a kitchen or bathroom or adding a swimming pool can make a huge difference in the appeal of a home.
However, not all homeowners can make these home improvements on their own. They need to hire contractors who know what they're doing. However, picking out the right person for the job can be a huge job in itself, as not all people who claim to be contractors are actually licensed. This is something to be aware of, as 10% of Americans have been scammed by contractors. On average, they lost more than $2,400. That's a huge chunk of change.
Most home improvement scams (34%) involve doing quick work without a contract. But even if you do have a contract in place, scams can still occur. For example, starting out with a low cost and then significantly increasing the cost happens in 23% of cases. In 22% of cases, the contractor will demand a huge down payment or bill the homeowner for low-quality work.
Many other tactics involve lies and deceit. They may include using shoddy materials, lying about permits, manipulating change orders, falsifying invoices, falsely representing employees, and adding subcontractors at higher prices.
Avoid being a home improvement scam victim. Here are some red flags to look for:
The contractor fails to complete the job or does poor quality work. Contractors have standards to abide by. It would seem dishonest to make a promise and then fail to complete the job, but it happens a lot with scam contractors. They take the money and run.
The contractor frequently arrives late. Many contractors think that because they are their own boss, they don't have to abide by time schedules. Well, they do. The construction industry is filled with deadlines. Plus, not showing up on time makes a person look like a flake, regardless of their job.
They add extra charges or fees. Sometimes unforeseen issues come about, requiring extra costs. However, if the contractor does not discuss this beforehand and charges you much more than expected, it's a sign this is a scam.
They refuse to answer questions. A contractor who is unwilling to communicate with you and refuses to give you progress updates is likely hiding something.
They provide no written contract. Never allow a contractor to perform work without a contract. A contract is legally binding and protects you in the event of any issues caused by the contractor.
Seek Legal Help
You need to be careful, as scams are everywhere. A person could lose thousands of dollars from a home improvement or construction scam.
Have you been a  victim? If so, Fort Lauderdale breach of contract lawyer Edward J. Jennings, P.A. We can help you understand your business contract and advise you of the next steps. Schedule a consultation today by calling 954-764-4330 or filling out the online form.
Source:
nar.realtor/magazine/real-estate-news/sales-marketing/5-signs-of-a-home-improvement-scam