How To Stop Being Trapped After A Divorce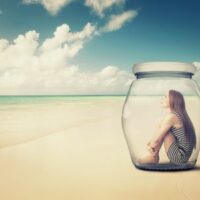 Many people feel trapped in their marriage. They feel as though they cannot be the person they are truly meant to be.
They contemplate divorce, but even ending their marriage can lead them to feel trapped. A divorce does not make their spouse disappear from their life forever, especially if there are children involved. For example, they may be forced to pay alimony to their ex-spouse. If there are children involved, you will be forced to co-parent with your ex-spouse. You'll also be unable to relocate without the other parent's consent. On top of that, you may have to get a job or experience a downgrade to your lifestyle.
Having to deal with these downsides can make divorce a bitter pill to swallow. However, you need to think positively and figure out how to make the best of your situation. Stop thinking about how trapped you are in a divorce. Instead, think of the freedom you will acquire. Here's how to think positively and feel better after your divorce.
Use Your Time as You Please
One of the silver linings of divorce is that you no longer have to bend over backwards for someone. You have more free time to focus on yourself and do what you want to do. If you want to binge watch your favorite TV show or take a bath, you can do it without guilt.
Be Yourself
Your ex may have been a good person, but maybe they just didn't get you. After a divorce, you have the opportunity to be yourself. Laugh as much as you want. Do all the things that you couldn't do when you were married. Use this opportunity to be yourself. You'll feel much better.
Stop Feeling Sorry for Yourself
It's easy to sit on the couch and feel sorry for yourself over a pint of ice cream. While it's good to identify your feelings and figure out what went wrong in your marriage, you need to start thinking positively about the situation at some point. Think about all the things that have gone right since your divorce so you can boost your confidence.
Have Goals
It's helpful to have a purpose in life after a divorce. Get another job and build up your savings account. Save up for a new sports car. Get a house by the beach. Go back to school. Travel the world. Try a new hobby. Live a healthier lifestyle. There are so many things you can accomplish on your own. Make it a point to live your life to the fullest.
Seek Legal Help
A divorce can be freeing, but it can still leave many people trapped when it comes to their ex-spouse and children. By finding their freedom, they can become a whole new person and feel a lot happier.
Fort Lauderdale divorce lawyer Edward J. Jennings, P.A. can assist you with the various post-divorce issues you may face. Get your life back on track with our help. To schedule a consultation with our office, call 954-764-4330 or fill out the online form.
Resource:
huffpost.com/entry/silverlinings-to-divorce_n_7495296