Managing A Parent's Estate To Prevent Probate Issues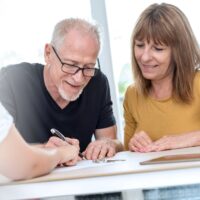 It's inevitable that we're all going to die someday. As an adult child, there's a good chance that you'll outlive your parents and therefore be tasked with handling their estate upon their passing.
This can be a frustrating situation as you deal with the grief of your loved one's death. But you'll need to quickly deal with their finances and get everything situated if you want to avoid issues once you enter probate. And yes, you will more than likely have to go through probate unless your parent had a trust in place. Even if your parent had a will, you'll still need to go through probate.
Things will go much smoother if you inform the proper agencies of your mother's or father's death. If your parent received benefits from Social Security or Veterans Affairs, you'll definitely want to inform them right away. Otherwise, your parent will continue receiving benefits and you'll have to pay them back, which can be a complicated process.
It's a good idea to get multiple copies of your parent's death certificate, as this will help settle their affairs. You can request these from the funeral home. You will probably want at least 10 copies. Once you get the death certificate, you have proof of your parent's death, so this makes everything else easier.
Many companies, such as insurers, may need policy information before you can file a claim. Ideally, you would have this information from your parent before they die. You'll need to inform others about your loved one's passing, such as credit reporting agencies and any company that manages your parent's benefit plans. You'll also want to inform government agencies, including the IRS. Speaking of the IRS, you'll need to prepare final tax filings. The IRS can help you with this.
Contact your parent's banks and alert them to the situation. They can help you manage the accounts smoothly. Also, see if your parent had a financial advisor. They can often help with estate planning tasks, particularly when it comes to finances.
Probate Process
For the probate process, it's best to work with an attorney. They can help you file a petition with the probate court and estimate the value of their estate. You'll need to pay any outstanding debts. Whatever is left goes to the parent's beneficiaries.
If there is a will, an executor will distribute assets accordingly. If not, a court will appoint an administrator to determine who gets what. The administrator is typically the next of kin, such as an adult child.
Seek Legal Help
After your mother or father dies, you'll want to know how to best handle their estate plan so you can avoid probate and other issues that can cause delays and added costs.
Fort Lauderdale probate litigation lawyer Edward J. Jennings, P.A. can help you avoid complicated estate matters. Call 954-764-4330 or fill out the online form to schedule a consultation.
Source:
reviewed.com/money/features/how-manage-parents-finances-after-they-die