More And More Potential Home Buyers Backing Out Of Contracts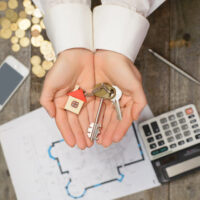 The real estate market has been red hot for the past two years. Property prices have been going through the roof. Buyers are paying tens or even hundreds of thousands over asking price — in cash.
But those days may be over. The stock market has been volatile, inflation has gone through the roof, and interest rates are rising. Buyers don't have the same confidence they did last year or even earlier this year. In fact, they have become "emotionally paralyzed." They're changing their minds. They're including cancellation classes in their contracts and using them at high rates. Home sale cancellations have been happening nationwide at the highest rates on record (with the exception of March and April 2020). In July, 16% of all sales were canceled.
There's no longer any sense of urgency like there was in 2020 or 2021. The current market conditions are making home buyers take a step back and really think about what they're doing. After all, a home is typically the most expensive thing a person will ever buy. If you're going to spend hundreds of thousands or even millions of dollars on a house, you want to make sure it's what you really want.
Rising interest rates is one of the biggest issues. A rate isn't locked in until a contract is signed, and that can take months. By then, the interest rate can rise considerably — and it has this year. In January, interest rates were at 3.79%. In August, the rate had risen to 5.88%. First-time home buyers who need a job and a mortgage often struggle the most with climbing interest rates. In some areas, the debt-to-income ratio needs to be under 30% or even lower.
Even a 1% increase in interest rates can be a huge deal, making a difference in whether or not a home buyer can comfortably proceed with purchasing the home. And even those paying in cash are feeling unsure about buying a home in this market. They don't necessarily want to pay top dollar and who can blame them?
For now, though, many home buyers are taking a step back and assessing their buying power. Still, those looking to buy a home should get into the market now. Don't think about what a friend or family member bought last year because you will be sorely disappointed.
Many buyers are looking to rent, but that's not a good option either. Prices are off the hook. It's brutal out there. Save up your money and get back into the home buying game soon.
Seek Legal Help
To sell a property, there needs to be a contract in place that is signed by both parties — the buyer and seller. When either party backs out of the contract, the property does not get sold, leading to delays.
Fort Lauderdale real estate contract lawyer Edward J. Jennings, P.A. can serve as your advocate and ensure that the terms of the contract are favorable. To schedule a consultation, fill out the online form or call 954-764-4330.
Source:
curbed.com/2022/09/emotionally-paralyzed-buyers-are-backing-out-of-contracts.html