Preparing For The Holidays After Divorce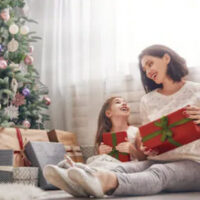 Christmas is around the corner. In years past, you may have been excited about the holidays. But after a recent divorce, you may no longer be feeling the Christmas spirit.
While feeling down in the dumps is to be expected, you need to work through your negativity and approach the holidays with positivity. This can be hard, though, if you have children. You may be confused about what to do. Maybe you're having trouble communicating plans with your ex-spouse. Should you continue with holiday traditions? Should you try something new? How do you make the holidays special for the kids?
The holidays can be an emotional time. Here are some ways to make the holidays a happy affair.
Think About Your Priorities
When it comes to the holidays, what activities matter? What do you want to do and who do you want to spend time with? This is your opportunity to do what you truly want to do, not what anyone else thinks you should do. Think about the positive memories you want to create. Don't focus on the past but do expect challenges to come along.
Be Flexible
Try to keep with the same traditions, to some degree (you don't have to visit the in-laws anymore). At the same time, be flexible. If your siblings don't want to host Christmas this year, maybe you can have the family over—if you're in the mood. Or think of new ways to spend the holidays. Just try not to add on too much stress. That's the last thing you need right now.
Maintain a Good Relationship With the Other Parent
While you may not feel like playing nice with your ex, you should get into a positive mindset. Doing activities with your ex allows the kids to spend time with both of you. Consider neutral activities such as watching a movie. This requires little communication, making things easier on you. In any case, try to encourage a positive relationship with the other parent. Avoid one filled with negativity and badmouthing—your kids will thank you.
Focus on the Future
2022 will signal a new year and a fresh start. Be positive and focus on your goals for the upcoming year. While your divorce may have been rough, you should think about what you have after the divorce and what you can control in the future. Think of a theme that will get you motivated as you face challenges in the coming year.
Seek Legal Help 
Celebrating the holidays post-divorce can be an emotional experience. Things will change after a divorce. You may need to create new traditions.
Fort Lauderdale divorce attorney Edward J. Jennings, P.A. can help you with emotional and legal aspects of divorce. We can guide you in the right direction so you can create a new life as a single person. Schedule a consultation by calling 954-764-4330 or filling out the online form.
Resource:
forbes.com/sites/heatherlocus/2018/12/12/5-tips-for-creating-happy-holidays-and-new-year-divorce-and-all/?sh=696c24a44a2c