Splitting Child Custody Over the Holidays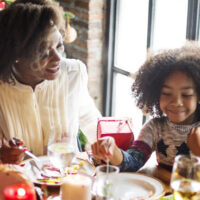 Believe it or not, time is flying and the holidays are fast approaching. This can be an exciting time of year for many people. Families get together. People pig out on turkey and watch football. Kids decorate Christmas trees and wait for Santa.
But for divorced parents, the holidays can be a stressful time of year. After a divorce, Thanksgiving and Christmas may not be the same. There's no more family togetherness. There may even be drama as the parents try to decide how, when, and with whom the kids will celebrate the holidays.
Child custody during the holidays can be a contentious issue, but it doesn't have to be that way. If you and the other parent are having difficulties deciding on how to split custody, here are some tips to make the holidays happier for you and your kids.
Make the Schedule in Advance
Planning for custody during Christmas break should not happen on December 22. Instead, try to work with the other parent in advance to get the schedule in place. This will help with preparation and result in less stress for everyone.
Think about how to divide custody so it's fair to both parents. Alternate holidays every other year. You could also have fixed holidays, especially if one holiday is more important to one parent. You could also split the holiday in half, if you and the other parent live close enough. Think of the best way to divide holidays based on your situation.
Don't Involve the Kids in Negotiations
This puts too much pressure on the children. You and the other parent should be the ones making the plans and doing the negotiations, not the kids.
Don't Make Changes
Once you have a schedule in place, try to stick to it. It's understandable that emergencies do happen sometimes and there may need to be some flexibility. However, there should not be too many changes. The co-parent does not have to agree to any changes, so if you want to make changes to a custody schedule, you may have to go to court.
Focus on Positivity
Most kids enjoy the holidays. They love taking time off school and spending time with family. Try to make the holidays positive for them. They're going through a stressful time after a divorce. Try to make the holidays a magical time for them — a time where they can be happy and not have to worry about the problems their parents may have.
Seek Legal Help
After a divorce with children, it's easy for the holidays to turn stressful. By working together with the other parent  and making compromises, you can have a joyous holiday season.
Fort Lauderdale divorce lawyer Edward J. Jennings, P.A. can help you deal with child custody and other related divorce matters. We understand how important your children are and will make sure their best interests are kept in mind. Call 954-764-4330 or fill out the online form to schedule a consultation.
Source:
talkingparents.com/parenting-resources/splitting-custody-over-holidays