Thinking About DIY Divorce? Think Again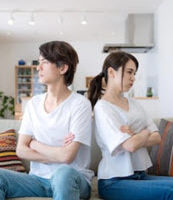 Divorce is stressful in many ways. Not only are you ending your marriage and splitting up all your assets and debts, but you're also spending a huge chunk of money on lawyers. The average divorce in the United States costs $15,000.
That's a lot of money. Many people even put off divorce because of the cost and choose to live in misery. Others look for ways to save money. They may even forgo a lawyer altogether and opt for a DIY divorce.
While this may seem like the obvious choice at first glance—spend a few hundred dollars instead of tens of thousands of dollars—cutting corners in this way comes with a huge risk. If you decide to represent yourself, you could make some costly mistakes along the way and end up losing way more than the money you would have spent on a knowledgeable lawyer.
Handling your divorce on your own is not as easy as it looks, despite all the forms and advice you'll find online. There are numerous elements involved and the average person is not equipped to handle them all on their own. The following provides some reasons why you should hire an experienced family law attorney to manage all the aspects of your divorce.
Lawyers Know the Law
This is the most obvious reason to hire a lawyer. While you could do research to understand what laws apply on your situation, the law is complex. In regards to divorce, the laws vary from state to state. You might be entitled to receive assets you had no idea you could get. You likely are not familiar with all the paperwork that needs to be filed and all the deadlines that apply. Divorce lawyers know all these details like the back of their hand. They are highly knowledgeable of this area of law and have the experience to handle your case with ease.
Fewer Delays
The average person has never been through a divorce on their own, so they don't have a clue about the process. While there are some sites online that can help, if you choose to go the DIY route, you're bound to experience some hiccups along the way, especially if you have children or significant assets. You won't have anyone on your side to guide you, and this can lead to delays. Get help from someone who is familiar with the process.
Less Stress 
Divorce is stressful enough. Hire a lawyer to take care of the process. Take this time to focus on you, your children and your job. A lawyer reduces the stress. Take advantage of one. 
Seek Legal Help
While the high cost of lawyers' fees can deter someone from hiring one, you should never compromise when it comes to a serious legal issue like a divorce. The outcome of a divorce can affect you for many years, so make sure it's done right.
Let a professional handle your divorce. Seek help from Fort Lauderdale divorce attorney Edward J. Jennings. He has 30 years of experience handling divorce cases. He has your best interests in mind and will work hard to help you obtain a fair outcome. To schedule a consultation, call 954-764-4330 or fill out the online form.
Resource:
huffpost.com/entry/5-reasons-that-you-need-a_n_3937368