Waste Pro On Notice For Breach Of Contract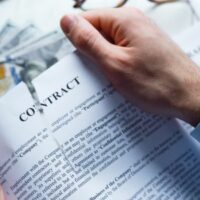 When a company engages in business with another party, they typically iron out all the details in a contract. A contract defines all the deliverables and due dates, as well as what to do when issues occur. When one party doesn't abide by the contract, this is called breach of contract and it can end up becoming a serious legal issue, resulting in lawsuits and damages.
Waste Pro, a garbage collection service in Florida, is currently on notice by the City of Palm Coast for breaching a contract. On May 26, the city sent a written notice to Waste Pro for failure to provide  the residential waste and disposal services outlined in the contract. The notice gives Waste Pro seven business days to resolve the breach of contract.
Waste Pro alleges that the garbage collection issues are caused from lack of employees as well as a lack of time. However, Palm Coast is not happy with the current garbage collection service. The city wants to provide consistent, timely service for residents. However, Waste Pro's service has been unacceptable and the city is asking the garbage collection service to improve service. Otherwise, the city will take further action.
The City of Palm Coast has identified various issues with Waste Pro over the past year. These issues include missed collections, missed routes, daily routes not being completed, and a lack of staffing to perform the services outlined in the contract. The city has also experienced a lack of communication from Waste Pro on their part.   The company has not addressed the missed collections and incomplete routes, which has led to angry customers constantly calling and emailing the city's customer service department.
Between January 1, 2021 and May 25, 2021, Waste Pro has been fined $29,280 for noncompliance of the contract it has with the City of Palm Coast. City staff are now having to take time from other tasks to  inspect garbage collection routes and look for missing or incomplete routes and collections.
The City of Palm Coast has asked residents to report missed collections online at PalmCoastConnect.com. Over the past six months, more than 4,565 complaints, despite the fact that Waste Pro's vice president sent a memo on April 1 indicating that service levels would be increased to satisfactory levels.
The city may terminate the contract with Waste Pro. In the meantime, they are seeking out additional garbage collection services if Waste Pro does not resolve the breach of contract within the seven-day timeframe.
Seek Legal Help
Businesses need to ensure they are complying with contracts to ensure that they do not get sued for breach of contract. There are several types of damages available in this situation.
If your company is involved in a business dispute, make sure you take action immediately. Fort Lauderdale breach of contract lawyer Edward J. Jennings, P.A. can advise you of your options and guide you through the process. Call 954-764-4330 or fill out the online form  to schedule a consultation.
Resource:
palmcoastobserver.com/article/city-of-palm-coast-puts-waste-pro-on-notice-for-breach-of-contract