What Are Your Options When Trying to Dissolve a Business Partnership?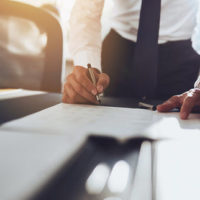 Dissolving a business partnership is almost as complicated as dissolving a marriage, one in which there were children and significant assets. Like with a marriage, you cannot just walk away from the partnership without going through a few legalities first. In order to ensure that each partner walks away with his or her fair share of the assets and debt, and in order to ensure that each partner gets what he or she wants out of the dissolution agreement, there are a few legal steps that the both of you must take, together, to dissolve your partnership swiftly, effectively, and fairly.
At the office of Edward J. Jennings, our Fort Lauderdale business litigation lawyers are here to help you execute a clean dissolution of your partnership. We will help you navigate your options, advise you on what legal steps you need to take, and ensure that you uphold any and all obligations you have to your partner. Though dissolutions can be tough, when you work with our team, you will be able to achieve the clean break both you and your partner deserve.
Revisit Your Partnership Agreement 
If you and your partner have decided to dissolve your partnership for any reason, the first and best thing you can do is review your partnership agreement. This is the agreement that the two of you made when you first joined forces, and it should outline everything from who will perform what roles, how disagreements are to be resolved, how much of a share each partner will have in the company, and so forth. A strong partnership agreement will also detail how the business is to be dissolved in the event that one or both partners want to leave the union.
Depending on the nature of yours and your partner's issue, you may not have to dissolve the partnership at all. Rather, changing the weighting of the partnership might suffice. For instance, if your partner wants to relinquish a majority of her responsibilities because she wants to focus more on family, but she still wants to play some role in the company, you can simply change the partnership agreement to reflect that.
If that is not an option, and if your issues go deeper than a friendly stepping-down, you may consider either selling your share of the business to your partner or vice versa—buying your partner's share. This allows at least one of you to continue operating the business, and the other to walk away with some compensation for their hard work. If this is the route you plan to take, consult a Fort Lauderdale business litigation attorney before signing any official agreements.
If you and your partner cannot resolve your dispute on your own, you may be forced to legally dissolve the partnership.
What a Legal Dissolution Entails 
In accordance with Florida Statute 620.1802, it does not take much to dissolve a partnership judicially. One partner must simply fill out and file an application, which the circuit court will review and, if approved, order a dissolution of the partnership "if it is not reasonably practicable to carry on the activities of the limited partnership in conformity with the partnership agreement."
Once the court orders the dissolution, the partners must begin the process of "winding up" (620.1803), meaning that the partnership may continue conducting business after the dissolution only for the sole purpose of winding up its activities. For this reason, it is best that you and your partner hash out the majority of the details prior to filing. Some things you may want to discuss include:
Have you both completed all of your agreed duties?
Have you had your business appraised?
Have you reviewed all of our contracts, leases, and loan agreements and determined how your dissolution might affect them?
Have you notified your suppliers, customers, and other relevant parties?
Have you considered the tax consequences of ending your partnership?
Does one of you plan on continuing the business?
Once you have discussed all the necessary matters, work with a business litigation attorney to draft a dissolution agreement that will benefit the both of you.
Let a Skilled Business Litigation Lawyer Help 
At the office of Edward J. Jennings, our business litigation attorneys handle a full range of business disputes in the Fort Lauderdale and Broward County areas. Whether you want help with dissolving your business partnership or need help drafting a restrictive covenant, we are prepared to help you deal with your business's legal needs in a swift, effective, and cost-effective manner. To schedule a consultation with a member of our team today, call us or contact us online.
Resource:
leg.state.fl.us/Statutes/index.cfm?App_mode=Display_Statute&URL=0600-0699/0620/0620.html