What Happens After A Gray Divorce?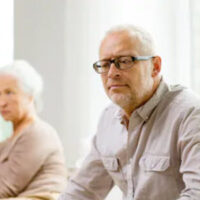 After a divorce, many people find new relationships within a few years. However, this is not always the case, especially for the older crowd. Gray divorces — divorces that occur after the age of 50 — are on the rise, and it seems as though once these people end their marriages, they're done with relationships for good.
A study aimed to see what was happening after these divorces. Are gray divorces different from divorces that happen at younger ages? The results showed that yes, they are. The main reason is the lack of repartnering that happens after a gray divorce. Most people don't move on after experiencing one. In fact, a decade after a gray divorce, 69% are still single. This may seem concerning to older folks who are going through a divorce, but let's take a look at the data.
The authors of the study analyzed data from the Health and Retirement Study. In the study, 1,131 people who had experienced a gray divorce were tracked for up to a decade. A sample of people over the age of 50 were first surveyed in 1998 and then interviewed every other year until 2014, with refresher samples added in 2004 and 2010.
The results of the study showed that after a gray divorce, women were more likely than men to stay single. Roughly 77% of the women had not cohabited (lived together) or remarried 10 years after their divorce. For the men, that number was at 62%.
The women who did partner again were slightly more likely to remarry than cohabit, at 12.5% vs. 10.9%. For men, it was the opposite, with 16.5% cohabiting vs. 14.6% remarrying. Still, staying single was the most common option.
Why is Being Single the Most Common Option?
The researchers looked at various factors to determine what is causing people to stay single.
Some factors were availability of partners and wanting to be in a relationship. It seems as though many people, particularly, women simply didn't want to be in a serious relationship again. And this makes sense. Many gray divorces happen after decades of marriage. After being together so long, many people just want their freedom. They want to be able to do what they want and live their own lives.
Also, availability of partners may be an issue. Women tend to live longer than men, so heterosexual men have more available partners than women, especially since many men tend to date younger women. Not all women want to date younger men.
Also, single, older women do better than older men who are single. They have more of a support system. They spend more time engaging in hobbies and other interests. In other words, their lives are more fulfilling, even in the absence of a man.
Seek Legal Help
Gray divorces happen later in life and this can affect a person's desire to be in another relationship. Most people decide to stay single after age 50.
A divorce after age 50 may sound lonely, but it doesn't have to be. You gain the freedom to do what you want. Let Fort Lauderdale divorce lawyer Edward J. Jennings, P.A. guide you through divorce and beyond. Schedule a consultation today by filling out the online form or calling 954-764-4330.
Source:
psychologytoday.com/us/blog/living-single/202302/staying-single-what-most-people-do-if-they-divorce-after-50