What Happens When a Spouse Dies During a Divorce?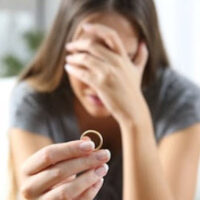 Divorce is a common event, occurring in roughly 50% of marriages. What's not as common is when one spouse dies during a divorce.
A spouse may get into an accident or suffer a sudden illness and die unexpectedly. Then there are cases where a spouse has a terminal illness and the other spouse decides they cannot stay married anymore. They want to move on with their life, so they file for divorce, only for their spouse during the divorce.
In any case, the surviving spouse may wonder: what happens now? Do I keep going with the divorce? What happens in terms of child custody or property division?
If you have filed for divorce in Florida and this suddenly happens, here's what you need to know.
Incapacitation
If a spouse becomes incapacitated during a divorce proceeding, the court will likely appoint a guardian to govern the person and property. The court may need to appoint a guardian with full authority to act on the incapacitated person's behalf. The guardian may move forward to finalize the divorce proceedings.
Death
If you have filed for divorce in Florida, you are not immediately divorced. You are still considered married until the judge signs the final judgment, or divorce decree. So if a spouse dies in the middle of a divorce, the deceased person is considered to be married at the time of their death. Florida law does not allow you to obtain a divorce from a deceased person, so the marriage is still valid. The court no longer has the jurisdiction to continue dissolving the marriage, so the divorce proceedings are effectively terminated. It would be as though the divorce action never happened.
What if you had children together? The surviving spouse is given sole custody of the children. In terms of financials, you will not be able to receive child support or alimony, since the payor is dead. However, if your spouse had life insurance, you would likely be able to receive it.
In terms of property division, assets are to be distributed based on your spouse's estate plan. Did they have a will or trust in place? If not, then your spouse has died intestate and probate laws would apply. However, as the spouse, you would be entitled to your fair share of the assets. Depending on how property is titled, you may receive it automatically upon your spouse's death.
Seek Legal Help
You cannot get a divorce from someone who is dead, so if your spouse dies while the divorce is underway, the divorce action is also terminated.
If you are ready to end your marriage, then choose divorce. You don't have to wait until your spouse dies. Get the help you need from Fort Lauderdale divorce lawyer Edward J. Jennings, P.A. To schedule a consultation, call 954-764-4330 or fill out the online form.
 Source:
natlawreview.com/article/what-happens-to-my-divorce-if-my-spouse-passes-away-or-incapacitated