What Is Employment Discrimination?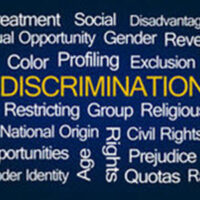 We all have the right to work regardless of what we look like, how old we are, or who we are attracted to. However, some employers engage in discrimination, treating employees inferior to others. They may deny these employees promotions or even demote them for some reason.
While it's acceptable to demote an employee for poor behavior or not meeting deadlines, you cannot demote an employee because they are female, a minority, or homosexual. These reasons and others are protected under law. An employer who discriminates against an employee can be sued and forced to compensate the employee for their damages.
What EEOC Laws Do
Employees have protections against discrimination thanks to the Equal Employment Opportunity Commission (EEOC). The EEOC will protect you against:
Unfair treatment and harassment by co-workers and managers due to your age, race, gender, pregnancy, sexual orientation, religion, disability, or genetic information.
Discrimination related to promotion, job assignment, compensation, hiring, and termination
Denial of a reasonable workplace accommodation that you need for religious or medical purposes
Unnecessary questions about a disability or genetic information
Retaliation for filing a discrimination claim
What is Harassment?
Harassment is illegal when the severity or frequency creates a hostile or offensive work environment or causes the victim to be demoted or fired. It can include offensive jokes, slurs, name calling, physical assaults, threats, intimidation, insults, mockery, and offensive pictures. Offhand comments and simple teasing are not considered harassment.
What to Do
If you have been a victim of workplace discrimination, you will need to file a Charge of Discrimination before you can file a lawsuit. This is a signed statement stating that your employer engaged in discrimination. You can find this online. It requests the EEOC to take action.
Note that there are time limits involved. You typically have 180 days from the date of the incident, but for age discrimination cases, you have 300 days if there is both a state law that prohibits age discrimination as well as a state agency that enforces that law. One you file the charge, the EEOC will notify the employer that you have filed a charge against them.
Once the charge has been filed, the EEOC will interview you. An EEOC staff member will discuss the case with you and advise you of the next steps. Typically, the EEOC will accept the charges. However, if you do not file your claim in a timely manner or the EEOC does not investigate your claim for some reason, the EEOC will dismiss the charge and let you know the status. 
Seek Legal Help
Discrimination seems to be happening more and more, but it should not happen in the workplace. You should not have to feel uncomfortable because your co-workers or managers are treating you differently because of your age, race, religion, gender, sexual orientation, disability, or other factor.
Fort Lauderdale business litigation lawyer Edward J. Jennings, P.A. can help you with your discrimination case. We will help you get justice and compensation. Fill out the online form or call 954-764-4330 to schedule a consultation.
Resource:
eeoc.gov/youth/what-employment-discrimination