What To Ask Yourself Before Getting Divorced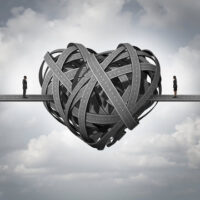 When people get married, they should always ask themselves if they are making the right decision. The same should apply for those considering divorce, but that is not always the case.
When people start discussing divorce, they seem to make up their mind quickly. They don't always consider the repercussions of divorce on themselves and their children. They're under the impression that divorce is the best choice.
In some cases, it is. But there are situations in which the marriage can possibly be saved by asking the right questions. After all, many people do regret their divorce. Don't be one of them. Before you end your marriage, ask yourself these questions first.
Have You Made Your Concerns Clear?
You may feel as though you are sounding like a broken record, repeating yourself constantly. But are you really? Have you made yourself clear? Does your spouse really know why you want a divorce? Make sure your concerns are known and that your spouse knows it's a reason why you're ending your marriage. That way, at least you can say that you gave it your all.
How Can Your Marriage Be Saved?
Think about one way in which you could save the marriage. Then, think about what your spouse could do. Your spouse needs to do the same. Share each other's answers and see if both of you can work toward saving your marriage.
Would You Be Happier Without Your Spouse?
We all tend to think that the grass is greener elsewhere, but is it really? Sure, your spouse may have some downsides, but what does he or she bring to the table in return? For example, maybe your spouse doesn't make a lot of money, but they're a great parent and they do a lot of work around the house. Remember, nobody's perfect, and divorce does not necessarily solve all your problems. Think about what's important to you and whether or not you are getting what you need from the marriage.
What is Your Biggest Fear?
Divorce can be scary. People may fear financial issues or loneliness. These are real fears. But staying married can be scary, too. You may feel depressed about your marriage. You may be tired of fighting with your spouse. Think about your fears and determine if getting divorced would be ideal.
How Can You Protect Your Children?
Many people avoid divorce because they don't want to upset the children. But the truth is that if you're truly unhappy, divorce is the best option. Your concern should be figuring out how to minimize the harm to the children. Keep in mind that you and your spouse will still need to coparent, so think about how you will do it amicably.
Seek Legal Help
Divorces are major events that should not be taken lightly. They are legal issues that come with many implications, so take them seriously.
Do you really want a divorce? If so, let Fort Lauderdale divorce lawyer Edward J. Jennings, P.A. help you understand your legal rights so you can decide if a divorce will be the right decision for you. To schedule a consultation with our office, call 954-764-4330 or fill out the online form.
Source:
nytimes.com/2017/05/18/fashion/weddings/11-questions-to-ask-before-getting-a-divorce.html