What To Avoid In A Real Estate Contract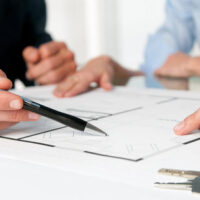 Buying a house can be an exciting venture. However, a house is likely the most expensive thing you will ever own, so you need to be vigilant about what you're paying for and what your contract says. If not, you could lose a lot of money in the process.
Real estate agents will often work in their best interests. They don't really care about their clients; they just want to make a commission. This desire to make money could cause them to be dishonest about the home or not explain the terms of the contract. It's not uncommon for an agent to put a homebuyer in a tricky position by making the contract confusing on purpose.
Homebuyers were jumping through hopes in order to cash in on the housing market frenzy that happened over the last couple years. Now the market has slowed down and buyers now have the upper hand. Real estate agents are having to work harder now to sell a home and make a commission, so they may engage in devious plans to get buyers to lock in on a purchase quickly. This has happened before and already led to regret.
Don't regret your home purchase. Look for these red flags in your contract.
No Right to Cancel
Some agents are persistent — to the point where they may not even allow you to cancel your contract. You don't want this type of agreement. You want to be able to walk away at any time. That's why it's essential to ensure any contract signed with an agent includes a right to cancel clause. With such a huge purchase like a house, you don't want any strings attached.
Unsavory Fee Agreements
Agents may get a 6% commission when selling a home. However, some contracts may require you to pay the commission even if the sale doesn't go through. Look for this before you sign.
Conflict of Interest
Sometimes a real estate agent may represent both the buyer and the seller. Beware of these double-dealing agents, as they can't possibly act in good faith for both parties. While this may seem illegal, it's not in real estate. And agents may push hard for you to agree to this because they get double the fee. Don't agree to this because you won't get a deal.
Affiliated Business Arrangements
As a buyer, you should work with the lender and title company you want. Don't let your agent pressure you into using their affiliate — they just want to profit off the referral. This affiliated business arrangement is not ideal. The lender or title company is not looking out for your best interests. Look for an independent title company to ensure a safe transaction.
Seek Legal Help
When buying a house, you want to avoid mistakes that can cost you thousands of dollars.
Fort Lauderdale real estate contract lawyer Edward J. Jennings, P.A. can assess your contract and help you understand the terms. We'll protect your legal rights every step of the way.  Schedule a consultation by calling 954-764-4330 or filling out the online form.
Source:
businessinsider.com/real-estate-attorney-home-contract-tips-2023-2