What To Do After Being Served With Divorce Papers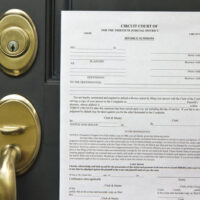 One of the first steps of a divorce is getting served with divorce papers. Even if you have agreed to the divorce and are expecting it to happen, actually being served with the papers can be devastating. It makes everything more real, as they serve as the beginning of the formal end to your marriage.
It may bring about a flood of emotions. You may think about just ignoring the divorce papers and hope the divorce never happens. That's not how the process works, though, and by ignoring them, you make matters even worse.
What Happens Next
Once you receive divorce papers, the ball is in your court. You need to take action if you want to preserve your legal rights and make sure you get your fair share of assets.
Your first step should be to thoroughly read the paperwork. Look for any deadlines as well as any important information and instructions. Read the entire document so you know the next steps in the process.
If you haven't already, now is the time to get a lawyer. While many people think they can save money by representing themselves, this is not a good idea. You likely don't know much about family law and divorce, so hire an expert. A good lawyer can help you understand your rights and responsibilities, build your case, argue on your behalf, and make the divorce process as quick and smooth as possible.
Next, you need to respond to the summons as quickly as possible. In Florida, once you are served with the summons, you have just 20 days to respond. Your lawyer can help draft a counter petition to submit to the court. If you fail to meet the deadline, then your spouse will get everything they requested in the divorce.
You'll also need to collect various documents for your lawyer. You'll need to gather financial documents, such as pay stubs, tax returns, and bank account and credit card statements. Also, you will need ownership records of homes and cars, such as deeds and titles.
Finally, you'll need to work with your lawyer to devise a strategy for the division of assets. It's best to start with mediation first so you can avoid the courtroom if possible. Mediation allows you and your spouse to work together and compromise on how you want to split assets and debts. A mediator answers questions and helps move the process along. If, however, you and your spouse can't come to an agreement on all the major issues of your divorce, then you will need to go to court and have a judge decide.
Seek Legal Help
Whether or not you anticipate a divorce, you need to act quickly. There are strict deadlines that need to be followed.
Fort Lauderdale divorce lawyer Edward J. Jennings, P.A. can help ensure you understand your legal rights when your marriage is ending. Schedule a consultation with our office today. Fill out the online form or call 954-764-4330.
Resource:
flcourts.org/content/download/403056/file/903b.pdf