What To Know When Divorcing In Your 20s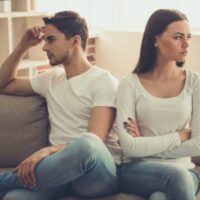 You married in your early 20s, just after college. You thought you married "the one," but after a couple years, the relationship went sour. You and your spouse live separate lives. You do nothing together and hardly communicate.
You're not happy. Should you wait it out and hope things change? Should you spend a lot of time trying to fix things? Or should you just get out while you can?
While the average marriage lasts eight years before ending in divorce, many couples opt to divorce in their 20s, after being married for just a few years.  If you're in that category,  you may feel embarrassed that you gave up too soon. However, you shouldn't feel guilty about ending things and looking for someone else who makes you happy. Here's what you should know if you are divorcing in your 20s.
Get Your Finances in Order
Many married couples in their 20s are dealing with student loan debt from college and may be just starting out in careers. If they decide to divorce, they will likely have more debt than assets. This only gets worse if they divorce without help. They then end up taking on more debt as they try to split up marital debt, which affects them both for many years. Instead, work with a lawyer to get a strategic plan in place so you don't leave your marriage worse off than you came into it.
Stay Off Social Media
Many of us are used to blasting our thoughts and feelings on social media, but it's a good idea to avoid this when in the throes of a divorce. Anything you post can be uncovered by lawyers and used against you in court. This could affect aspects such as asset division, alimony, and child custody, if applicable. Your best bet is to limit social media use or stay off of it altogether. Even though you're likely very angry about the divorce, you should share these feelings with a therapist, not with the whole world.
Get a Support System in Place
If you got married young, you may have lost a lot of friends, which can make it hard to find a support system. Lean on close friends and family members to help you through this difficult time. If you lack support, look for support groups in your area. You'll be able to share your feelings with other divorce people.
Think About Your Future
The advantage of divorcing in your 20s is that you still have a lot of life ahead of you. You haven't wasted too much time, like some couples. You have a lot of time to build a career, save money, find someone new, and get married again. Plus, you'll have fewer regrets and you can focus on what you really want out of life. So get excited! 
Seek Legal Help
Many people feel ashamed about divorcing in their 20s, but sometimes relationships don't work out. It's often better to end them quickly rather than let them drag on for decades.
Fort Lauderdale divorce lawyer Edward J. Jennings, P.A. can guide you through the divorce process, regardless of your age. To schedule a consultation, fill out the online form or call 954-764-4330.
Resource:
brides.com/how-long-do-average-u-s-marriages-last-4590261