What To Look For In Vague Business Contracts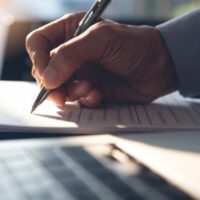 When it comes to agreements, details matter. When signing a contract, you want to ensure the terms are clear. When things are vague or unclear, it can cause frustration and even business disputes down the road.
Don't sign a contract unless you are clear on specific terms. Here are some vague business terms to look for and avoid.
Best Efforts
A contract should be specific when it comes to measuring performance. There should be clear obligations and performance metrics. The criteria should be measurable. Avoid using vague terms such as "best efforts," "good faith efforts," "reasonable efforts," and "reasonable best efforts." What do these terms even mean? Unfortunately, even the courts do not know, so avoid these terms altogether.
Vague Terms
You may think it would be OK to use commonly used terms, such as "profits," "revenues," "costs," and "reasonable expenses." However, these terms can be misinterpreted by the parties. It's a good idea to define them to avoid confusion.
Vague Timelines
A timeline should have specific dates or at least a number of days in which a task needs to be completed. Using terms such as "timely,"  "as soon as possible," or "immediately" is too vague. There needs to be specific time periods for performance.
Ambiguity in Purchase/Sale
When requesting payment, it's best to be as clear as possible. Is payment to be made in cash, check, or credit card? When requesting "dollars," are we talking about American or Canadian dollars? Should it be done via PayPal or some other app? Also, when should payment be made? What happens when payment is late? These details should be outlined in the business contract.
Interpreting Contracts
When a contract is unclear, it may be up to the court to interpret it. Here are some ways in which they may do so:
Common usage. If any words are vague words, the court will typically use the common usage, or the dictionary meaning, of the term.
Industry usage. For more technical terms, courts may have to rely on the way a word is commonly used in a certain industry or business.
Prior use. The court may resolve the ambiguity by determining how the term was used in the past, based on prior interactions.
The court will look at various interpretations and see if one meaning is more reasonable than another. They will determine if an interpretation leads to an impossible or unlikely outcome.
Implied meanings. If certain terms were left blank, a court may simply "fill in the blank" and assume that a word has a certain definition.
Seek Legal Help
Vague business contracts can create frustration for all involved. They can also lead to court battles and litigation, so make sure your contracts are clear, with no ambiguity.
Avoid misinterpretation and disputes with help from Fort Lauderdale business litigation lawyer Edward J. Jennings, P.A. We can review your contracts and help you understand what is expected of you. Schedule a consultation by calling 954-764-4330 or filling out the online form.
Resource:
bizjournals.com/bizjournals/how-to/growth-strategies/2017/06/7-ways-to-avoid-signing-vague-contracts.html