When Your Spouse Won't Pay Attention To You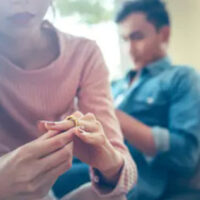 Early on in your relationship and marriage, you and your spouse probably couldn't take your hands off each other. Now, 10, 20, or 30 years down the line, you two barely do anything together. You may come home from work and barely talk to each other.
When you're married to someone, you want to feel as though you are loved and cared for. When you instead feel invisible, it can lead to a lot of resentment in the marriage. Why is your spouse neglecting you? Why won't he or she give you any attention?
Marriages can be rough in the child rearing stage. Raising young children is a lot of work and it takes up a lot of time. Trying to deal with children, work, housework, and a million other things can leave a person too exhausted to work on their marriage.
But what about as the children get older? Do you and your spouse go on dates anymore? Are you taking each other for granted?
A lack of attention can affect your relationship as well as your mental health. If your partner doesn't make you feel valued and important, you feel neglected and even rejected. You may think there is something wrong with you, which can destroy your self-esteem. You may feel more aggressive toward your partner and eventually decide to give up on your relationship completely.
What You Can Do
Want to improve your relationship? Here are some things you can do:
Stop begging for attention. If you beg for your partner's attention and are denied, you will end up feeling rejected. This will ruin your self-esteem.
Stop controlling your partner. You can't tell your partner what to do or try to change them. Focus on things you can control, like your own behavior.
Focus on yourself. Stop worrying about what your spouse is doing. Instead, do things you're interested in doing. Go to the gym or take a class. By doing things you want to do, you bring more fulfillment to your life. Plus, your partner may take an interest in the fact that you are doing things on your own and not including them.
Communication is key in any relationship, and this is especially true if your needs are not being met. Does your spouse know? Have you expressed your feelings toward them? What does your spouse need? By trying to understand their point of view, perhaps you can find a solution to your issues of lack of attention.
Seek Legal Help
You may feel needy by thinking your spouse doesn't pay attention to you, but couples should spend time with each other regularly. If you're not getting your needs met, then it may be better to divorce and find a partner who can tend to your needs and make you feel appreciated.
Is your marriage in a rut? Not feeling appreciated? Fort Lauderdale divorce lawyer Edward J. Jennings, P.A. can help you move on. Fill out the online form or call 954-764-4330 to schedule a consultation.
Source:
verywellmind.com/what-to-do-if-youre-tired-of-begging-for-attention-from-your-partner-5214391