Why is Divorce Harder for Military Members?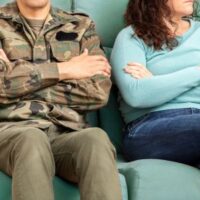 Divorce is a rough event to go through. It's a legal process that is often time-consuming and expensive. While the divorce rate has gone down in recent years — mostly because millennials are refusing to get married in the first place — certain demographics are still seeing high rates of divorce. The military is one of them.
In fact, of all career fields, those who have served in the military have the highest rate of divorce. Servicemembers are married at higher rates than civilians, and their divorce rate is just under 5%. Why should military families be concerned about divorce?
One of the most confusing aspects is that it can be hard to determine jurisdiction. Military members do not stay in one place for too long. They may change location before the divorce filing. Then they may change again during the divorce process. Once a servicemember moves to a new command, the previous command is limited in what they can do.
If a person is stationed overseas, the military will move divorcing spouses back to the United States. These moving costs may be covered by divorce settlements. In some cases, separated or divorced spouses are forced to live together due to the high cost of living. Then there are some policies that require couples to live separately before divorcing, which adds even more costs to an already expensive process.
For couples with children, the process is even more complicated. Because of the demands of military life, servicemembers are rarely custodial parents. That role is primarily given to the military spouse. Trying to work about any custody or visitation time with the servicemember parent is challenging. Sometimes children have to be flown out across the country or even the world to see their other parent. Because of the travel expenses involved, staying connected with children is a challenge for military parents.
Plus, there are legal rights for military spouses that they may not know about. There is a federal law, called the Uniformed Services Former Spouse Protection Act, that provides benefits to former spouses of military service members. Former spouses who do not remarry may receive medical, commissary, exchange, and movie theater privileges, as well as other benefits, if they meet the requirements of the 20/20/20 rule:
The spouse was married to the military member for at least 20 years at the time of the divorce or annulment.
The servicemember has performed at least 20 years of credited service toward retirement (although the member does not have to be retired from active duty).
The spouse was married to the member during at least 20 years of the military member's service.
Seek Legal Help
Divorce is hard, no matter your career field. However, military members have a high divorce rate as well as various complications that follow.
Struggling with the process? Get the help you need from Fort Lauderdale divorce lawyer Edward J. Jennings, P.A. We offer compassionate, dedicated, and effective representation to help you resolve your divorce. Fill out the online form or call 954-764-4330 to schedule a consultation.
Source:
military.com/daily-news/opinions/2023/06/22/why-divorce-particularly-hard-military-families.html#:~:text=risk%20of%20divorce.-,According%20to%20reports%20based%20on%20U.S.%20Census%20Bureau%20data%2C%20those,divorce%20rate%20is%20roughly%204.8%25