Why You Shouldn't Keep The House In A Divorce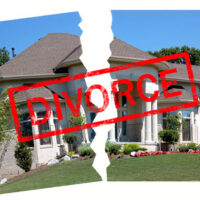 When your marriage is ending, there's a lot on the line. Who gets what? Where will you live? What happens next?
Divorce is no doubt a confusing event. No two divorces are alike. What happened to your friend or sister may be totally different for you. This is also true for assets. Some people keep their assets, like their home. Others decide to sell it.
It's understandable to see why many people keep the marital home. It's a place full of memories. If you have children, keeping it only makes sense for them. It provides a sense of stability.
However, keeping the family home is easier said than done. First, you would need to refinance the home, which can be difficult if you don't qualify financially. Plus, mortgage rates have gone up over the past year, so you can expect your mortgage payment to go up. On top of that, there is maintenance, insurance, and taxes to consider. These costs can easily add up.
Divorced women are more likely than men to want to stay in the marital home. The problem is that financial illiteracy is common, with 44% of women in debt during the divorce process. On top of that, women's household incomes fall by more than 40%, on average, following a separation.
Women want to keep the marital home due to the comfort aspect. It's easier than having to pack up and move to somewhere unfamiliar, especially when raising kids. However, houses are expensive and keeping them can result in even more debt, which is not something a person should do when income is already limited after a divorce. Experts recommend only taking the home if the costs take up less than 30% of your income.
Women are focused on immediate security but the better option in a divorce is to focus on long-term financial success. Instead of keeping the family home, they should try to split their ex's 401(K) or other retirement plan. With retirement savings limited for many women, This is why married couples should take the option to split the breadwinner's 401(K) in a divorce settlement.
Women also need to seek help from a financial professional who can help them understand their finances. They often think of expenses as stagnant, but many costs do rise every year due to inflation. Unfortunately, incomes do not always do the same.
Because of this, women who have children should add a cost of living adjustment (COLA) clause to their divorce. This would allow for child support payments to increase based on inflation.
Seek Legal Help
When divorcing, many people want to keep the house due to sentimental reasons. Plus, it can be easier than moving. However, houses come with a lot of expenses beyond the mortgage.
If you are seeking a divorce, make sure you are making the right financial decisions. Fort Lauderdale divorce lawyer Edward J. Jennings, P.A. can give you the right advice as you end your marriage. Fill out the online form or call 954-764-4330 to schedule a consultation.
Source:
dailymail.co.uk/news/article-12125939/Should-house-divorce-Expert-warns-women-make-catastrophic-choice.html