Child Custody Issues on the Rise During Pandemic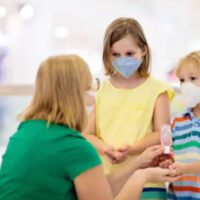 We're all sheltering in place due to the coronavirus crisis. This means that millions of Americans are working from home. Many couples have been cooped up together for over a month now. This is great for some couples. They now get to spend extra time with their spouses.
For many couples, though, it hasn't been an ideal situation. Their husbands and wives have been getting on their nerves. They now get no time alone, so isolating together has only added more stress to an already stressful situation. This has caused many couples to think about divorce.
While divorces are expected to be on the rise due to the coronavirus, child custody is expected to be impacted as well. Those who are already divorced are having a hard time agreeing on parenting and custody issues with their ex-spouses.
Some parents may live in an area that has a lot of COVID-19 cases, while the other parent may live in a more rural area where there are few to none cases. In these situations, the parents may disagree on where the child will spend most of their time. Their main concern is to keep their children safe, but parents do not always agree. They want to keep the same schedule, even though it might not be in their child's best interests.
Parents are thinking outside the box and coming up with alternative ways to stay in touch with their kids. Some are essential workers, such as nurses and doctors, and don't want to be around their children in case they get infected with coronavirus. Therefore, they may insist that the other parent have sole physical custody for the time being, while staying in touch electronically via video chats, emails and texts. In some cases, parents are granting temporary custody to grandparents to protect their children.
Sometimes parents don't agree with the alternatives, though, and are going to court to seek emergency court orders.  However, courts are not open during this pandemic unless it is an emergency situation, and child custody orders are not considered emergencies compared to domestic violence issues, restraining orders and other pressing issues.
In any case, parents need to compromise and be patient as they deal with this unprecedented situation. They need to avoid resorting to anger during this time. Civility and good will are much appreciated as parents work to resolve disagreements on their own. While courts may not be open, family law attorneys are still available to counsel parents and guide them toward a favorable resolution.
Seek Legal Help
Sharing custody of your children can be challenging even in the best of times. The COVID-19 pandemic has caused a lot of fear and uncertainty. We are dealing with an unprecedented situation that has caused immense health and financial issues.
If you are dealing with child custody squabbles with your ex-spouse, you need the right advice. Get representation from Fort Lauderdale divorce attorney Edward J. Jennings, P.A. He can help you with child custody and other divorce-related issues. Schedule a consultation today. Call 954-764-4330 or fill out the online form.
Resource:
libn.com/2020/04/24/divorces-custody-issues-spiking-in-pandemic/
https://www.ejj-law.com/how-to-take-the-stress-out-of-divorce/